Visitations, viewings, funerals, memorial services, and burials can be very expensive, typically between $1,500 and $20,000, depending on the level of services, your choice of casket, the number of ceremonies, venues, available amenities, and where you live. It is always important to remember that funeral homes, mortuaries, and crematoriums are all businesses and need to make a profit to operate. You should still be just as skeptical of the directors as you would be of any salesperson.
It is not uncommon for these expenses to result in unpayable debt and even bankruptcy, so trying to save on cost and figuring out how to pay for them may be vital to you and your family.
This section will run down the costs and provide some hints on how to control them.
While about 70% of these costs are typically paid with life insurance settlements, there are ways to make sure that money is available and other ways to pay for them including prepayment and planning ahead.
Your loved one's unshared or personal assets are frozen between their death and the settling of the estate during which time you will need money from other sources to pay these expenses.
Running Up the Tab
When you have a visitation, viewing, funeral, and/or memorial service there are a multitude of expenses that add up quickly.
While the typical costs can total between $1,500 and $20,000, the average cost of a funeral plus burial is $7,360-$9,000. An average cremation and service is slightly less expensive at about $6,260.
They may include rental costs of the facility, service fees for funeral staff, the casket and/or urns, costs to transfer your loved one's remains between each location, burial containers, amenities, such as flowers, slide shows, and limousines, and the cost of gatherings.
You will also be paying for burial plots or mausoleums, and markers or headstones.
Individual costs
Most of the costs or ranges listed are average prices and there will be many places where the cost is outside the range.
Embalming is done by the funeral home or mortuary and typically costs between $200-$725, although costs up to $1,700 have been reported.
Beyond the specific circumstances listed previously, embalming is not required by any state law. However, 37 states require funeral rooms to maintain an embalming room.
In many cases it is an expense that can be avoided, but it is encouraged.
The Federal Funeral Rule allows you to refuse embalming, unless situations require it.
Embalming may be more expensive if their body is badly damaged or has been autopsied.
Embalming is done by the funeral home or mortuary and typically costs between $200-$725, although costs up to $1,700 have been reported.
Beyond the specific circumstances listed previously, embalming is not required by any state law. However, 37 states require funeral rooms to maintain an embalming room.
In many cases it is an expense that can be avoided, but it is encouraged.
The Federal Funeral Rule allows you to refuse embalming, unless situations require it.
Embalming may be more expensive if their body is badly damaged or has been autopsied.
The embalming fee does not include related tasks, such as $95-$400 (average $250) for washing, dressing, cosmetically preparing your loved one's body, and placing it in the casket.
A casket often accounts for much of the cost after your loved one's death. They can range from a simple $500 box to $20,000 or more, depending on the materials and design. Remember, you are primarily paying for the appearance.
As a burial vessel, they are not really intended to, nor can they, preserve your loved one's body.
Metal caskets may slow the decomposition of their remains more than a wooden casket, but this does not make them any more preferable. The same applies to thicker metal caskets or caskets made out of harder woods.
Metal caskets that are described as "gasketed," "protective" or "sealer" caskets are designed to delay the penetration of water into the casket to prevent rust and slow the decomposition of their body.

While that may be true to a certain extent, in the long run it is just an unnecessary expense.
The Funeral Rule prohibits funeral homes from making misleading claims about these products.

Warranties may be offered, but they are of no real use.

Since all caskets will deteriorate eventually, do you really need to pay for a guarantee that it will take longer?
In addition, it is unlikely there will ever be an occasion to check.
As a cremation vessel, they will be destroyed by the heat and fire, and therefore probably should not be expensive. An alternative is to rent a casket for appearance and purchase a much less expensive one for cremation.
Less expensive caskets may be made of unfinished wood, pressed wood, fiberboard, or even cardboard or canvas. Average cost is $1,000.
If you opt for a direct cremation, i.e. no visitation and/or funeral, you can elect to forgo a casket altogether.
Although not required by law, your funeral home may require one.
It is not uncommon for you to be shown only the most expensive caskets, including many with superfluous features, so don't hesitate to ask to see others.
An urn is a container that holds cremated remains – cremains.
Like caskets, they come in many different materials at various costs, some as low as $100.
Typically the type of urn will depend on what you plan to do with the ashes.
If you plan on keeping their ashes, the decision is usually one of appearance and durability.
Although the casket may be the major cost, the number of services/ceremonies affects the cost.

You will need to pay rental fees for each facility while you are using it and costs of all the necessary staff and equipment.
You must also pay to transport your loved one. The average fee is $350 per transport, plus a rental fee of $350 if you want to use a hearse in the procession
There are many costs associated with burial or interment as well. Unlike funeral homes, cemeteries are not bound by the Funeral Rule.
A mausoleum or crypt can cost $4,500-$8,500.
Public cemetery plots typically cost $700-$2,000, while private cemetery plots are $2,000-$5,000. This does not include the land, just the license to be buried or interred there.
Digging and filling the grave (opening and closing) can cost $1000-$1500. This price may include obtaining necessary permits, maintaining legal files, keeping records, the use of a casket-lowering device, and other items or services.
A burial vault typically costs $900-$10,000, while a grave liner may be $700-$1000.
Collectively they are also known as burial containers.

Grave liners go over the top and protect the sides of the casket. They are usually made of concrete.
A burial vault is more expensive and also supports the casket. They are also usually concrete, although another more durable material may be used. They may be sold with a warranty of protective strength, but that does not really apply to the casket and body, just the prevention of caving in or sinking.

These are placed in the grave before your loved one's burial and the casket is lowered into it.
They are not required by law, but cemeteries usually want them to prevent the ground from caving in or the casket from sinking over time.
Like a casket, the purpose of a burial container is not to prevent the eventual decomposition of your loved one's body.

The Federal Funeral Rule prevents funeral homes from claiming that the container will prevent water, dirt, or other debris from getting into the casket to do this. This alleged protection should not be a basis for any warranty.
This law requires them to provide a list of container options with the prices before showing any to you.
You can also comparison shop and buy them from another source, but other sellers and cemeteries are not obligated to follow the Funeral Rule either.
A typical flat grave marker is $1,000, a simple headstone $1,000-$3,000, and an upright headstone $10,000 for, depending how elaborate you like it to be.
The price may include the cost of setting it up.
See How to choose a memorial monument (headstone).
Unlike other items, you can take your time choosing one. Many families take months to do so.
Perpetual or endowment care fees for the gravesite are typically 5% to 15% of the plot price. This is a one-time fee that does not include maintenance of headstones or other gravesite memorials.
There may be other costs that may or may not be associated with the funeral and burial costs.
Flowers – $150
Professional service and equipment – $2,100
Facility usage (rent) – $425
Staff fee – $500
A limousine or service car for the procession – $150
Memorial Service printings (pamphlets and prayer cards) – $160
The cost of post-funeral gathering
Cutting Corners

It will not dishonor your loved one if you consider cost when scheduling events. In fact, they most likely would have been glad that you have not bankrupted yourself or unnecessarily reduced their beneficiaries inheritance. It is important to try and minimize the cost by finding out what your options are, how much they will cost, and avoiding emotional overspending. Funeral home prices are available by telephone without having to give your name, address, or telephone number. However, they are not required to put their prices on their website. If there is no reason to choose a particular cemetery, such as proximity to mourners or family members interred together, comparison shop for burial sites as well.

While you can't change how much these things cost in your area, there are some measures you may consider to reduce your costs. The Funeral Consumers Alliance website may be able help you make choices about more affordable funeral-related costs.

While you may admit you are on a limited budget, don't disclose an amount. If you do, you may be surprised how close that number will come to the final price, usually just over it.
Bring someone with you that will be more objective and help you avoid emotional appeals and other pressures to add unnecessary items and services.
Although cost will probably not affect this decision, the average cremation and memorial service is slightly less expensive than a funeral service and burial.

The average cost of a cremation is reported to be $2,000-$4,000. An average of $6,260 if a funeral or memorial service is held.
The average cost of a funeral and burial has been reported to be between $7,360-$9,000.

Refuse embalming, unless the funeral home provides documentation that it is legally necessary. However, embalming may be required by the funeral home for a public viewing.
Provide clothes for your loved one's visitation.
To reduce facility fees, you may want to combine, simplify, or limit the size and length of ceremonies.
Hold ceremonies in places without venue/facility fees, such as your home or public parks.
Remember that their casket is merely a means of displaying your loved one and a burial or cremation vessel.

Do not pay extra to prevent or slow down decomposition.
Use outside vendors with lower prices, if allowed in your state.
If you are concerned about appearances, rent a casket for pre-cremation ceremonies and use an inexpensive option if needed for the cremation.
If allowed, forgo a casket if your loved one is cremated.

Contact outside vendors that provide services, such as flowers, music, clergy honorarium, and newspaper notifications, rather than paying more by having them supplied through the funeral home.
Save money by not delegating the funeral home to perform tasks that you or the executor can easily do, such as securing the death certificate, submitting obituaries, making claims for Social Security or veterans benefits, or making arrangements for grave markers.
Opt for a direct cremation through a crematory, which can be one third of the cost of a direct cremation through a funeral home.
If you would prefer not to have a viewing or service with the body present, omit all services by electing a direct cremation or immediate burial, which can cost as little as $3,000-$5,000, not including the burial costs.
Don't fall victim to emotional appeals for add-ons or packages that allegedly show more respect for your loved one or make them more comfortable.
If one is required, shop around and choose the least expensive grave insert (burial vault or grave liner).
Look at options for a burial casket, cremation casket, or funeral urn.
Planning Ahead
You may not be at your best following your loved one's death and decisions can be difficult. It will be a costly time that may require you to make financial decisions you're not prepared for. Money from your loved one's private estate will not be reliably available right away.

The most important financial decisions during this time involve your loved one's funeral and burial. Depending on the circumstances, there are two ways to plan ahead. The first way applies if you have not made the plans before their death and you want to make sure you make the most responsible financial decisions. The second involves making plans well before your loved one's death, sometimes even before they are ill.
If your loved one has just died and you are faced with the distressing task of planning and paying for funeral and burial (cemetery) or cremation costs, you must prepare yourself to work with the funeral director. This starts with research into the options available to you in your location and their costs.
Use this information to decide what you want ahead of time so you and your family don't fall victim to emotional appeals for add-ons or packages that you neither want or need, but will allegedly show more respect for your loved one.
Refer to the Funeral Rule to learn your rights..
Although not anything you would look forward to doing, you and your loved one could look into and budget for funeral and burial (cemetery) or cremation costs well in advance of their death.
The major advantages are peace of mind that you will not have to face these decisions when the time comes and that you have funds available to pay for it. You will probably have less anxiety and stress for a variety of reasons.
Instead of making assumptions, you have direct and detailed input from your loved one about what they wish and the amount they want to spend. This can prevent you from hearing things like, "they would have wanted this" or "this would make them more comfortable."
There will be much more time to do research, visit different facilities, and compare prices of items and services.
You will be making decisions under less emotional circumstances. You can be more objective and less susceptible to sales pressure tactics.
Having money to put aside to pay expenses or even having them already paid prevents you from needing to take loans, arrange finance plans, raid savings, or sell assets.
You have time to get input, and possibly consent, from other family members. This may be necessary in some states that require this to follow through with a cremation.
You will also have more time to learn about your rights and protections offered by state regulations for formal agreements.
Many families opt to commit to a funeral home or crematorium and pay for these services in advance. All states allow for these prepaid plans.
As with all purchases it is important to research options, comparison shop, get quotes from at least three funeral homes, and ask a lot of questions before agreeing to and paying for anything.
Not all services and items can be prearranged, but those that can include:

Picking up the body;
Embalming and restoration;
Rooms or chapel for viewing and funeral services;
Casket and/or urn, vault or grave liner;
Transportation of family members or the body/casket; and/or
Permits, death certificates, obituaries, and other paperwork.

Forty-four states also allow for prepaid burial services and merchandise, including:

Opening and closing the grave;
Grave markers;
Vaults or grave liners; and/or
Mausoleums or niches.

Cemetery plots are excluded from prepaid plans in all states.
Unfortunately, there can be some drawbacks to doing this.
You need to make contingency plans in case you move.

Some arrangements may be transferable among different funeral homes, usually only those in the same state.
If not, you may not be able to get a refund.

If the facility goes out of business, you will lose your investment and have to start again.
The requested items and services may no longer exist and you will be forced to make decisions in an emotional situation.
If your state does not recognize your loved one's right to make these decisions and you want to make different arrangements, you will have to start all over and may lose your investment/down payments.
Some states will not allow you to proceed with a cremation unless the entire immediate family agrees to it as well, beginning the process over again with possible loss of your investment/down payments.
In some situations you may end up paying for upgrades or inflation.

You may not be able to negotiate a formal agreement that includes this.
Informal agreements are not regulated by your state and may not be honored.
It is best to make a formal arrangement regulated by the state that locks in prices and guarantees that equivalent substitutes will be provided at no additional cost if products and services currently purchased are not available in the future.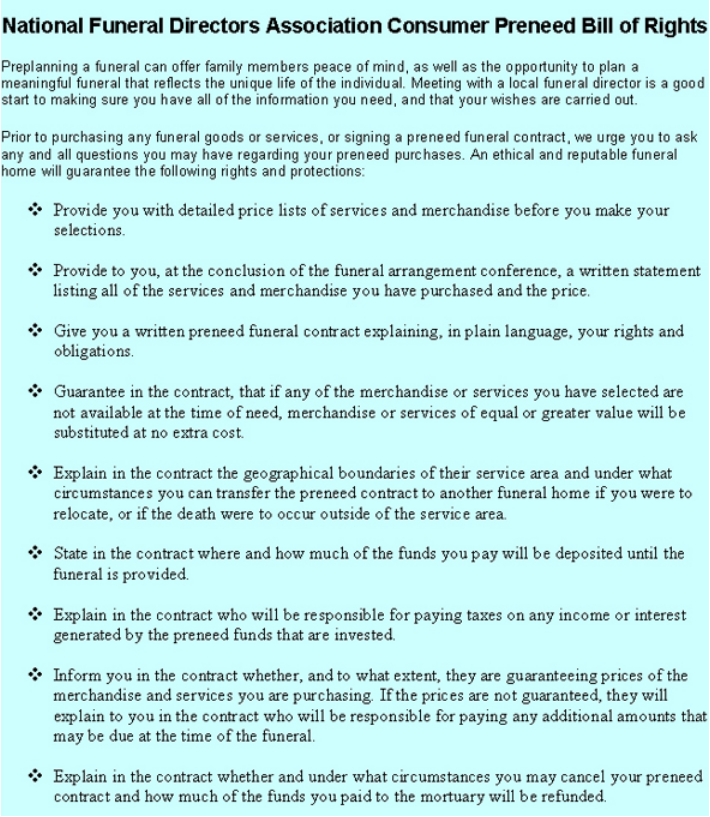 Source – Using End-of-Life Services. National Care Planning Council.
Reference – Bill of Rights for Funeral Preplanning. National Funeral Directors Association.
Saving for expenses
If you do not want to prepay for funeral and burial (cemetery) or cremation costs, there are many options to save money specifically for these costs.
Your loved one can open a dedicated savings account specifically for these expenses and give you shared access to access the funds when needed.
You could use money from your loved one's life insurance settlement, but only if you are the beneficiary and the funds are transferred to you after their death. About 70% of costs are paid for in this way.
Your loved one's life insurance policy could add death benefits that will cover some of the costs.

Death benefit policies are often expensive, especially if they have pre-existing conditions or other risk factors, such as smoking.
There may be a waiting period preventing payment if your loved one dies too soon after the benefits were added to the policy.
If your loved one lives long after the benefits have been added, they could pay more in premiums than the funeral and burial costs.

Money can be put into a funeral trust with the specific funeral home as the beneficiary.

The trust accumulates interest, which may account for inflation.
Items and services are usually prearranged and paid for by the trust after their death.
If the trust is not enough to cover the cost, you may end up paying additional costs if the agreement did not cover inflation or equivalent substitutes.
You would not get any excess funds from the trust if it covers more than the funeral costs.
The trust is forfeit if you cancel the agreement.

A Totten Trust may be an alternative, where you are the beneficiary. The money is available to you, but you will need to make arrangements for payments, even if you plan the details in advance.
Seeking Financial Assistance
The average funeral or cremation is expensive and can be an enormous burden on many families. While there are many ways to save money on a funeral, you may want to consider financial assistance from one or more sources.
Ask if your immediate family is willing to help with some of the costs.
Apply for the Social Security burial benefit of $255.
If your loved one is a veteran, the Veterans Administration (VA) will provide a VA cemetery space at no cost, which includes opening and closing the grave, and a standard marker.
Crowdfunding campaigns for funerals are increasingly common, and you can set up a free funeral fundraiser on your loved one's memorial website.
Help might be available from a number of sources, including a church, union or fraternal organization that your loved one belonged to.
Websites, such as NeedyMeds, that list Patient Assistance Programs, may be able to locate programs to help with funeral costs or other end- of- life expenses, such as the Funeral Service Foundation – COVID-19 Crisis Response Fund.
Resisting sales pressuring and avoid funeral and cemetery fraud
You will probably be at your most vulnerable after the death of your loved one and unethical people may try and take advantage of this. This may include funeral directors.
There are ways to reduce the risk of this happening. Above all, remember that you are protected by the Funeral Rule, and should know your rights before making any arrangements.
Do not deal with any person that can't guarantee they will follow these rules.
Most funeral homes will give you this guarantee, but almost one quarter of them are not complying completely with the Funeral Rule, so be wary.
While it is normal for funeral directors to offer additional services, you should look for another provider if you feel at all pressured or shamed to do more than you have planned for.
While not technically fraud, the most commonly encountered ploy is various forms of sales pressure to convince grieving family members to purchase unnecessary items and services or expensive packages with unnecessary items and services to prove their devotion to their loved one. Fraud is when you are given misleading or incorrect information.
Practices such as pushing gasketed or extra thick caskets and/or expensive burial vaults to slow decomposition, only displaying expensive caskets, unlisted prices, and misrepresentation of prices and legal requirements are prohibited under the Federal Funeral Rule.
Other sales tactics include:
over-the-top emphasis or emotional appeals to ensure the dignity or comfort of your loved one to push for more or costlier items and services;
subtle or not so subtle persuasion techniques to steer you toward the costlier items and services, such as:

subtle emphasis or emotional appeals to the dignity or comfort of your loved one;
presenting three levels of package costs, knowing most will choose the middle one; and/or
pretending misunderstanding your requests to get you to reconsider them.

giving you the required information, but along with so much other pricing information that it's difficult to find the relevant prices;
raising the basic-services fee when you buy items from another vendor;
placing cremated remains in a box or a bag marked "temporary container" to get you to buy an expensive urn from them; and/or
offering "very special" services and items like releasing doves, pendants for ashes, protective amulets, and fancy decorations.
See CBS Canada reports on Funeral home markups and upselling and Funeral home sales tactics.
Occasionally scammers will attend funerals or burials posing as debtors demanding payment of money owed them by the deceased.