Advance directives include important information about your treatment preferences for critical end-of-life medical care. In addition, an advance directive could significantly reduce any anxiety, indecisiveness, and guilt loved ones may have from needing to make decisions without this guidance from you. A prior discussion could aid the healthcare proxy in making the decision most appropriate for you.
As with any legal document, it must be done correctly and the court can have the final say on whether it is valid or not. Laws about advance directives are present in the 1990 Patient Self Determination Act.
Most states allow you to create out-of-hospital advance directives, including living wills, Physician Orders for Life-Sustaining Treatment (POLST), and Do-Not-Resuscitate (DNR) orders and healthcare proxies. However, there is variation in the name and content of the documents used, who is involved in creating and certifying them, how strictly they are enforced, where they can be placed, etc. Some states require you to renew your living will on a regular basis. If so, you need to know how often that is and what you need to do.
Your choice of a healthcare proxy or healthcare power of attorney should be considered at the same time as your advance directive. This could either be a separate document or combined with the Living Will. Desire to become an organ donor is sometimes considered an advance directive, but is usually a separate document. The directives will apply whether you are in the hospital or elsewhere.
If advance directives are not available, decisions will usually be made by substituted judgment (what the patient would most likely choose) and/or best interest (what is best for the patient when choices are not known).
Another consideration if you do not have these documents is that not all states will appoint family members to be your healthcare surrogate and allow them to make medical decisions if you are incapacitated and mentally incompetent. Some states may require clear evidence of your wishes if you do not have a designated healthcare proxy and a family member is named as your healthcare surrogate.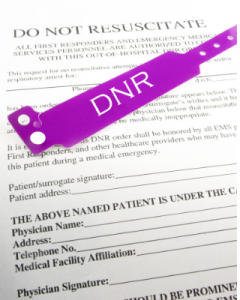 Once you have created these documents, store them in an accessible computer or physical file. Make multiple copies and distribute them to any healthcare professional involved in your care and any family member or other persons who may possibly be in a position to make an emergency medical decision. It is important for you to place them in your medical record and put others in obvious locations in your house for emergency responders to see.
POLST documents and DNR orders placed in your home should be printed on brightly-colored paper and displayed where emergency medical personnel can easily see them.

You can get a medical alert wallet card, necklace, or bracelet for when you are not at home.

When you are in the hospital, your healthcare provider can put an order in your inpatient medical chart that these directives be honored, but that will only apply to that hospitalization. If your primary healthcare provider is not taking care of you, the inpatient provider will need to see copies of the documents.
Use a legal professional or be sure to use state-specific laws and documents.
Although advanced directives are optional, the 1990 Patient Self-Determination Act requires hospitals, skilled nursing facilities, home health agencies, hospice programs, and health maintenance organizations to ask patients if they have an advance directive, recognize them if they do, or provide information about advance directives in their state if they don't.
Like every aspect of advance care planning, these documents are best created when you are younger and, more importantly, before a crisis situation prevents you from doing so. They should be updated as circumstances change and can be revoked at any time.
It is best if you check in with your family and healthcare provider before you put these directives in place. The process could bring out any hidden concerns and clarify any misunderstandings you may have about specific medical conditions or interventions.