As people age we tend to accumulate more health problems. With an aging population this leads to more people needing a higher level of healthcare.
For some, those health issues happen earlier due to a serious illness or accident. Sometimes these problems are too much for you and/or your family to manage at home and you may need to either have professional caretakers come to your home or be admitted to a chronic care facility for medical care and/or help with personal care.
If you are 65 years old or older, you have a 70% chance of needing some form of assistance with your care before you die.
If you need care during that time, you have a 67% chance of needing long-term help, including a 20% chance of needing it for more than 5 years.
The most appropriate choice will vary depending on the degree of illness, level of care needed, and the quality of the services.
A healthcare provider will help choose which option is best for your situation

 based on the

level of care needed

.

Although you will have a say in the choice, you will need a healthcare provider's order and each option will have requirements that must be met to be accepted. 
The nationwide need for long-term care will continue to increase as the percentage of people 65 years old and older increases.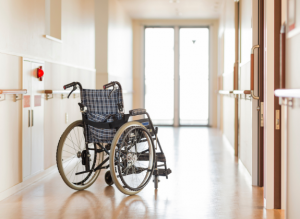 This is a much different decision as you approach the end of your life and are considering your preference for the setting where you want your death to occur. The decision is not about the medical care necessary to improve or maintain your health or the personal care that cannot be provided at home; it's about how you and your loved ones want to experience your death.
Although you may still need a healthcare provider's order, this is a more intimately personal decision than one about chronic care services.
You'll want to choose a location you're confident will comply with your advance directives, avoid unnecessary care, and maintain dignity.


While you are cognitively aware, any decision about medical treatment is yours and must be complied with.
When you are no longer able to make your own decisions, hospitals and nursing homes try to honor advance directives, but unwanted care, including IVs and attempts at resuscitation, may happen.
In hospital settings, your healthcare proxy or family may be tempted to request different types of care.

You'll want to consider your family's ability to access your room, since most medical care and assisted living facilities will have specific visiting hours, unless the facility will waive the restriction as you near the end of your life.
When seeking chronic or palliative care it's important to consider your level of comfort with the caregivers, ability to communicate well with them, the level of care they can provide, and their COVID-19 vaccination status. Whether it is your home or a care facility you must consider your needs, the cleanliness of the living situation, and COVID-19 screening and other precautions in place. This will apply to your family if they are making the decision.
A significant proportion of the money spent at the end-of-life goes to healthcare. About $430 billion per year is spent on end-of-life care and hospice costs and constitutes about 10% of overall healthcare spending. If you can, compare prices and consider different options to reduce cost, especially chronic care facilities. You should choose which option is best, but try to avoid paying for more care than is necessary.