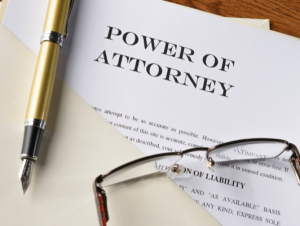 Many of the powers you could give to your agent are regulated by and differ from state to state. If you have assets in different states, make sure that state allows agents to perform those actions.
Remember that, whatever actions you want your agent to do, they must be spelled out in detail in the document. Some may need to be authorized by the state. For example, some states allow your agent to make gifts legally, while in other states the agent needs to have it explicitly authorized in their power of attorney document.
Common powers or actions include any or all of these.
Financial and legal matters
Access to all of your accounts, such as brokerage accounts, bank accounts,

annuities

,

401(k)s/IRAs/403(b)s

, and government benefits, credit card information, and user names/passwords to all sites

Making legal decisions about the estate and day-to-day finances, including:


Handling financial and business transactions, including investments;
Operating business interests;
Signing checks for depositing in the bank;
Signing checks or otherwise using your funds to pay bills, including everyday expenses and mortgage, tax, utility bills, insurance bills, phone, cable, and internet bills;
Cancelling any services and subscriptions you do not need
Buying, selling and managing real estate;
Borrowing money as needed to maintain the estate;
Filing tax returns; and/or
Employing professional help.

Creating or revising trusts for you, transferring your assets to existing trusts, buying life insurance, and settling claims.
Matters involving your beneficiaries.
Entering into contracts, dealing with real and personal property.

Making gifts on your behalf, using

gift tax

and

estate tax

guidelines or specific instructions that you specify.

Creditor and other claims on the estate, and lawsuits against the estate. 
Monitoring your state-of-mind in order to intervene before a financial crisis happens.
Protecting against scams or people preying on a person with a terminal illness.
Seeing to the upkeep of your residence.
Specify that they can make medical decisions. However a separate Healthcare POA or Proxy is better for this.
A POA that includes both financial and healthcare provisions will have your personal medical and financial information, however if you would like to use professionals, it would not be appropriate for the broker to have your medical information any more than your medical professionals need to know your financial status.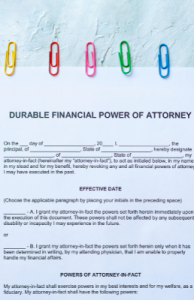 Actions by the agent need to be signed in a specific way, usually either of:
Your Name, by your agent under Power of Attorney; or
Your Agent, attorney-in-fact for Your Name.
Actions that can't be performed include:
Changing or revoking your will or creating one for you; however they can alter how your assets are distributed by changing the ownership (title) to them;
Changing or transferring Power of Attorney to another agent;
Commingling/combining their property or other assets with yours;
Performing any other fiduciary duties that are not in your best interest;
Voting in your place;
Any actions not permitted in your state;
Anything not specifically listed in the document; and