The more difficult conversation, and the one the rest of this section will focus on, is the one you will have when quickly approaching the end of your life. At this time you may be depressed, in denial, frightened, confused, distracted, or otherwise unable to express your feelings and needs. Other thoughts and feelings that could intrude are that you may:
Be afraid to die, hoping for a miracle cure, or even just want it over with now;
Feel you're a burden to your friends, family, or society;
Feel anger as if being cheated of life or let down by your God;
Have irrational anger, blame, and/or resent yourself, your family, medical professionals, the climate, or anything else;
Feel lost and alone, be missing relatives and friends who are unable to be with you, and desperate for someone to ask how you feel, but unable to bring it up yourself;
Feel as if you have wasted your life and are grieving any missed opportunities; and/or
Obsess about confessing to things that have happened in the past or to ask for forgiveness to the exclusion of talking about anything else.
Despite all of this, having the conversion about your death is the crucial first step toward making the best of what remains of your life and maintaining some semblance of control. You should also have a conversation about what happens when you become unable to make decisions for yourself.
There is ample evidence to show there are many benefits from the conversation that make the end-of-life process easier for all. Aside from you knowing they will be aware of and understand your wishes, family and friends benefit by reducing guilt and depression through helping with the grieving process. Don't try to 'spare the children;' it is just as important to include them in the process.
Healthcare professionals may break the news, but many are not as willing or able to discuss the specifics of planning for your death. Similarly, lawyers may know about advance directives, but it can be an uncomfortable experience for them as well. Your family may strive to be supportive, but they may be too overwhelmed to meet your needs. Clergy are also available for personal guidance and support.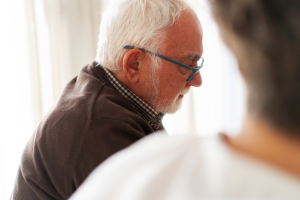 As with most other aspects of your life, you are your own best advocate. You will likely be best able to coordinate all of the family and professionals who will be involved and get them to work together.
You may have already created your advance directives and named a healthcare proxy, but you will still need to cope with your prognosis and make plans and decisions unique to those with a terminal illness. While a few will be able to handle all of this, most of us will need help and that means having the conversation over and over again with multiple people. You may even write a list of who that will be.
You may have trouble with the reality of talking to many different people about what you are going through. There are many ways around this, but a couple of ideas include appointing a spokesman to speak to anyone that is not close family or friends or create your own website with the information. Organizations such as Caring Bridge and My Life Line (specific to cancer) help you set up your site.
Particularly helpful are specialists specifically trained and willing to discuss all aspects of your situation, including grief, advanced planning, supporting decisions, and types of comfort care toward the end of life. The conversation's content may vary according to who you are talking to, such as family, clergy, friends, and/or co-workers. Medicare and most private health insurance policies now pay healthcare providers for advance care planning (ACP) conversations.
The quality of care that you receive will be most important, not the quantity. It will likely be more important to you that you are more comfortable rather than experiencing the discomfort of further treatment, unless you have an event you would like to survive long enough to see, such as a family member's wedding.