There may come a time when your loved one is no longer able to make their own decisions and you must take on the role of making decisions in their best interest. This may include decisions regarding end-of-life care. It is highly recommended that you all discuss these wishes ahead of time.
The most important discussions are those concerning potential life-prolonging treatments.
You should talk about their preferences for quality of life vs quantity of life and Aging In Place (dying at home) vs an inpatient setting.
Knowing these preferences ahead of time can give you and your loved one peace of mind if/when the time comes.
Once you are aware of these preferences, the best thing you can do for yourself and your loved one is to honor their decisions.
Since it is always difficult to let go, it can be tempting to request life-sustaining care when the decision is yours even if your loved one wouldn't have wanted it.
In most cases this results in unnecessary care that is unlikely to work or be in the best interests of your loved one.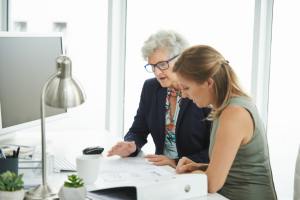 If you are aware of your loved one's wishes, it is best that they be recorded somewhere and you have officially been appointed to carry them out.
Advance Directives are legal documents that are the ideal way to do this.
A living will/advance care plan specifies your loved one's specific requests about end-of-life care and life-sustaining care.
The Health Proxy or Healthcare Power of Attorney gives you or another loved one the legal responsibility to act on your loved one's behalf when they cannot. It specifies exactly what actions the Health Proxy can or cannot take and which decisions are theirs to make.
You should always know where their advance directives are kept and probably have your own copies.
As you share the end-of-life process with your loved one, you will interact with healthcare providers and specialists helping you through the process.
They will be the ones to carry out your loved one's medical care and they will need to look to you if your loved one cannot consent on their own. 
Having your loved one's requests provides you with a guide in the event that you are asked to make a difficult decision. It is important to know your loved one's wishes about life-sustaining treatments.


You should consider any situation when they should either be stopped or are not started. 
Such treatment may include certain medications, feeding tubes, IVs, ventilator, CPR, resuscitation, dialysis, and more.

Without them, you are left in the onerous position of having to either have to do what you think they would have wanted or do what you would prefer.
Your loved one's healthcare providers may need to depend on you to provide them with accurate, complete information to be able to make good assessments and provide the best possible care for your loved one. You can help by knowing all of their major medical problems, surgical and other treatment history, doctors' names, medications, and drug allergies.
A more detailed discussion of these subjects can be found in the Advance Care and Easing Your Passage sections.