While Executive Order on Ensuring Responsible Development of Digital Assets, released by the White House on March 9, 2022, defined digital assets to include primarily cryptocurrency — Bitcoin, Ethereum, Non-fungible tokens (NFTs), and other mediums of exchange that are recorded on the blockchain.
Other important digital files or information could include:
Documents and websites containing information about debt, such as your mortgage, credit cards, loans, insurance plans, investment accounts, retirement accounts, college-saving accounts, trusts or other estate planning documents;

Online banking, shopping, subscription, and utility accounts;
Digital files stored in cloud storage services such as DropBox, iCloud, or Google Drive;
Files, programs, music, photos, videos, emails, and browsing history on your computer and/or tablet;

Apps, call and email history, music, photos and videos, location data, proof of COVID-19 vaccination, and other contents on your smartphone;

Files and programs on removable media, such as a thumb or flash drives or other external hard drives;

Music, playlists, or data on digital music players;

Books or files on e-readers;

Photos or videos on digital cameras;

Domain names for websites;

Digital rights to literary, musical composition, motion picture, or theatrical works;

Digital accounts in an online betting account;

Blog content;

Online video channels where the content is monetized and producing an advertising revenue stream for you; and/or

Online gaming avatars that offer online goods or services that may be worth real-world money.
Physical storage devices, such as hard drives or smartphones can be damaged, so you may want to back up files in other locations or print hard copies. You may also want to back up data stored in the cloud to a local computer or storage device in case you lose internet access.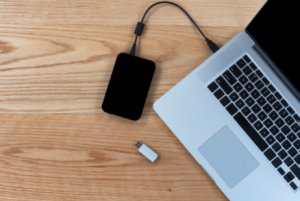 While it's difficult enough for you to keep track of and manage these digital assets, imagine someone coming in after your death to sort it all out.
Like physical files, your digital files must be organized in a way that makes individual ones easy to locate. To accomplish this:
Try to consolidate all the information in a single location, if you can't, as few as possible;
Create individual files for digital information, scanned documents, and other digital assets;
Include a file to guide others to any other locations that are being used;
Place related files into appropriately named folders; and
Organize the folders in a logical manner.
There may be software or an app that may be appropriate to your situation. It can list the type and location of all of your digital assets and documents, any account numbers, usernames, and passwords necessary. You can also buy online services, called Digital Archives, that will do this while you are alive. A low tech option, called a Digital Assets Memorandum is also available. It is simply a document that lists all of your digital assets and their location.
Detailed information about managing a loved one's digital assets after death can be found in The Digital World section.