Although this is a laborious process, it will save you and everyone else involved much more time in the long term. Essentially, you should set up your own filing system for storing important papers in a filing cabinet, drawer, or expanding file folder.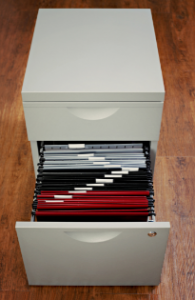 Once in place, a well- organized filing system only requires a minimal amount of effort to maintain, and the time saved when you need to find this information is enormous.
For example, quickly finding the supporting documents when applying for Medicaid or Veterans Benefits can avoid additional delay in the application process and the resulting delay in receiving benefits.
The first step is to decide on what categories would best fit your paperwork and way of thinking.
Next, label folders or sections with these categories and place them in your chosen filing area.
Categories that are typically used include:
Automobiles
Bank Accounts
Credit Cards
Insurance (may be divided into types such as Health, Life, or Property)
Medical Information
Mortgage
Personal
Retirement
Taxes
Utilities
Add as many as you need to suit your needs. You may also want to have copies of your Healthcare Proxy and Advanced Care Directive/Living Will in your files in their own labeled file.
You will need to choose different categories for your business, such as:
Accounts Received
Client Information
Contractor Information
Contracts
Billing
Employees
Insurance Policies
Inventory
Mailing Lists
Patents
Property Deeds
Taxes
Vendors
Few of us are capable of filing as we go, so your filing system needs a "To Be Filed" section.
This is for information/documents you will not file right away, but don't want to misplace.
Try to get into a routine for filing those papers in their appropriate file. It might be when you are paying bills or any other interval you choose.
Maintenance also includes cleaning up your records as needed. Not all paperwork needs to be kept forever.
To avoid unnecessary clutter, keep your records updated and condensed by getting rid of outdated files.
There may be obvious times, such as when you file your taxes when you can replace this year with the tax form from 8 years ago.