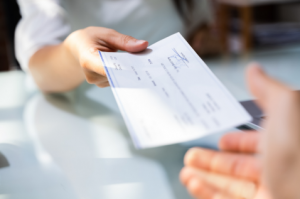 Trustees are entitled to be compensated for their role in managing your estate. Whether they will take the fee depends who you choose.
Professionals
will charge a fee and other non-family trustees will likely expect one. Family members often do not accept compensation, but that may depend on the work involved, their relationship to you and your
beneficiaries
, and whether they have been chosen for their professional expertise. The fee is taxable income for the trustee, so if they are a beneficiary a fee may not make sense because they may be inheriting money tax free and not want to pay income tax on the income that comes out of the estate for the trustee's compensation
. An alternative is to leave the desired amount as a bequest, which is not taxable.
The fee amount is usually established in the trust document and the money comes from the trust itself. It is considered a tax deduction for the trust. Banks, trust companies, and law firms will typically charge a percentage of the estate — especially if it is a large estate. This is often a one-time 1%-2% for estates settled within a year or yearly fee of 0.5%-2% for the duration of long-term trusts. Others may bill by the hour for the time they spend managing the trust, by a percentage of each transaction made on behalf of the trust, or a flat fee. In many cases, these fees are determined by the amount of work involved and the complexity of the trust.
Some states have specific rules for
executor fees
that can be used as a guideline for trustee fees that will determine the fee if not specified in the trust document. Most states will have rules for executor fees that may be used as a guideline if there are no rules for trustee fees.
When hiring professionals you may have little input into the fee, but it helps to know a few details in case you can haggle. These details may also help you if a family member or friend is your trustee.
Determining what is reasonable can be difficult, but most agree that 1% of the estate per year is a good goal when there is a choice. Courts generally consider an annual trustee fee of 1% to be a fair minimum compensation.
The courts could become involved if your trustee petitions them for a higher rate when the estate is complicated enough to require a lot of extra time and work. Consulting with a professional experienced with trust work may be able to help you determine appropriate fees based on the circumstances.
You may want to start with a yearly fee that's 1% of the trust value (or other amount or percentage professionals typically charge in your area) and adjust it based on the following factors.
Any qualified beneficiary should be given the opportunity to object if the proposed annual amount of compensation is more than 1%. Therefore, it is important to give them written notice.
They must submit their objection in writing within a specified period of time along with why they are objecting.
If there are objections, the trustee could either seek to privately resolve any concerns with the beneficiaries or pursue other avenues such as petitioning the court for arbitration — which are very expensive. The court can also help determine fees if no fee was indicated, or there was only a general statement that the trustee should receive "reasonable compensation."
The beneficiaries should be notified of the amount and timing of trustee's compensation and any time this changes. In addition to fees, trustees are entitled to reimbursement for any out-of-pocket expenses related to the management of the trust such as travel expenses, storage fees, taxes, insurance, or other expenses.