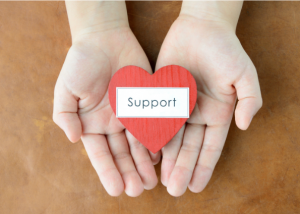 You will need ongoing love and support from your family and friends. Some of the support needed will change as your condition changes. These are some support measures you may need from your loved ones and how you may get it.
It is important to have ongoing contact with others. Give loved ones permission to visit as often as you are comfortable with.
You need continued emotional support from your loved ones. Sharing your feelings openly with them encourages this. They will likely be experiencing their own grief, so don't expect them to be positive all the time.
Your loved ones should continue to affirm your life. Focusing on the good times during visits will help this.
You may need continuing reassurance about many issues to better ease anxieties, including that you are not a burden, they will continue to stick with you through your illness, and/or they will accept your death and carry your memory.
Sometimes it helps if they give you permission to let go. 
Your Palliative Care/Hospice team will provide empathy and will work to make sure you always feel in control of your circumstances.
They will be able to provide or refer you for individual, family, and/or group therapy with a qualified counselor, medication to relieve depression and anxiety, and other medical treatments to make you comfortable. They can also help you arrange other things, such as financial and legal consults, advance directives, estate planning, funeral and burial services, medical insurance, or support groups.
Don't let guilt, reluctance, or ambivalence prevent you from accepting the help you need.