Inheritance in this case refers to giving something owned solely by you to your ex-spouse after your death. Your ex-spouse will still own all property that is solely theirs and half of any property for which you are co-owners. While it may be fairly simple to protect your individual assets, jointly owned property is another story.
Situations regarding co-ownership can be extremely complex and stressful for your remaining beneficiaries if you do not settle the issues before your death.
There are limited options including selling the properties and splitting the money, one of you buys out the other, or co-ownership with a willing beneficiary.
If you have children together and your ex has custody after your death, they will likely retain the house as long as they can afford it.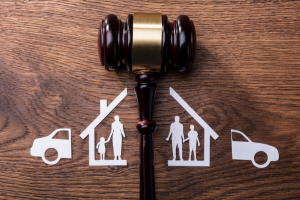 A financial or automatic restraining order can be obtained by either party that limits certain estate transactions between filing for divorce and the divorce being finalized. Financial restraining orders are automatic in some states. 
If you make the effort, you may be able to limit or possibly even eliminate how much inheritance your ex-spouse receives. How much depends on the laws of your state.
Most states automatically revoke bequests (gifts in a will) to an ex-spouse once the divorce becomes final, similar to what would happen if they had died before you.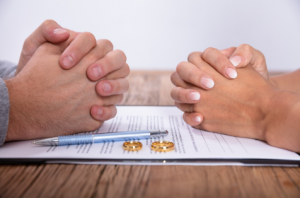 No matter what your state does, it is best to create a new will after a divorce becomes final to avoid any confusion, whether or not you still want to leave them something.
A new will revokes all of the old ones.
If you die before a divorce is finalized, the will stands.
Even if you do disinherit your ex-spouse, you may not be able to remove them as a beneficiary from everything. For example, your ex-spouse could remain a beneficiary on a life insurance policy while you are paying child support and/or alimony. It is always best to consult a legal professional.
There are many legal ways that could result in your ex-spouse getting part of your estate. For example, your ex:
Is one of the people allowed to go to court and contest your will; and/or
May be able to claim some of your pension based on how long you were married.
While most states will automatically remove your ex-spouse as the beneficiary of a revocable trust at the time of your death, if you have an irrevocable trust with your ex-spouse as a beneficiary, they will still be the beneficiary after a divorce.
The same is not true of Payable/Transfer on Death Accounts and Transfer on Death Deeds. You will need to remove your ex-spouse as beneficiary if you do not want the asset to go to them after your death.