All wills are required to go through the probate process, with three exceptions.
A joint will does not usually go through probate after the first spouse dies.
Many states do not require probate if your estate is less than an amount set by that state.
If your debts exceed your assets creditors may use other means to collect that do not involve the probate process.
The process takes place in the Probate Court (Surrogate's Court, Orphan's Court or Chancery Court in some states) that has jurisdiction in the place where you live. However, assets in different states, typically real estate, must go through the probate process in that state.
This is when wills can be contested.
The probate process may vary from state to state, including how soon the executor can file and the deadline for filing. The basic probate process includes:
Filing a "Petition for Probate" with a local probate court;
Swearing in a personal representative — either your executor with Letters Testamentary or court appointed representative with Letters of Administration if you do not have a valid will;
Giving notice, usually in the local newspaper, to interested parties, especially potential creditors and beneficiaries;

Identifying, collecting, and determining the value of

all of

your probate property;

Paying all debts, claims and taxes owed by your estate;

Collecting all rights to income, dividends, etc.;

Settling any disputes; and

Distributing or transferring your remaining property to your heirs.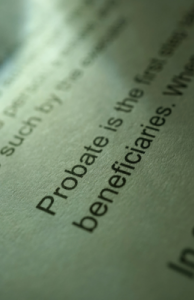 Depending on the size and complexity of your estate, the probate process can be time-consuming and expensive — up to 10% of your estate.
Most states will have a simplified or "fast pass" for small estates that is less expensive and time-consuming. The probate court is still involved but has less control over the settling of the estate, and usually can be done without a lawyer.
Not everything in your estate needs to go through the probate process. It is important to be aware that all court proceedings will become part of the Public Record, so others will be able to see the content of your will and any trust in your name or created in your will.
The process begins after your death with your executor or legal representative (administrator) appointed by a judge if you die without a will filing a petition for probate with the probate court along with a copy of your will. 
The filing includes lists of your property and other assets, your debts, and beneficiaries along with what they will inherit.
Some states allow you to file your will with the probate court before you die, but it is not required.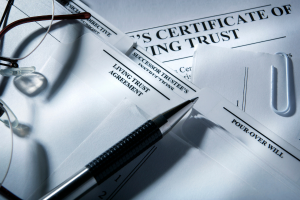 The court will need to validate your will or applicable trust before any further steps are taken, so it's crucial to make sure they are correct. If your will or trust is validated, the probate court will issue an order appointing someone to represent the estate, usually your executor or personal representative.
The court will then schedule and give notice of the court hearing to all of your heirs and beneficiaries. Some states also require this notice to be published in a local newspaper to notify others of the time of the proceeding. The newspaper notice will also serve as a notice for any creditors.
After this, the process usually involves supervising your executor to ensure that they carry out the wishes specified in the will, personal trust, and/or trusts created in your will. The tasks will take place in the following order.
Identify and inventory your property and estimate the value of your estate based on the appraised values of your assets at the time of your death or the alternate valuation date, as specified by the Internal Revenue Code (IRC).
Identify and pay any debts and pay required taxes, such as estate, inheritance, or gift tax.
Distribute the remaining estate to the beneficiaries.
For more details see Tasks of the Executor.
This may or may not require an appearance in court, depending on the size and complexity of your estate.
The probate court will also attempt to resolve any challenges to the will.
If your will is not validated, the probate process will proceed as if you had no will, beginning with designating an administrator to manage your estate. A relative or friend can request to be named as the administrator.
If you are concerned about the details of your estate getting out or saving your executor and beneficiaries time and money, aside from giving away money, possessions, and property before your death, there may be other ways to protect some or all of your assets from the probate process by converting them to forms that will not need to go through probate court.