The primary goal of a special needs trust is to make sure your beneficiary is still able to receive Medicaid benefits for their healthcare and Supplemental Security Income (SSI).
Since Medicaid benefits are only available to those with very limited income and resources, too many personal assets could result in your child or dependent having no health insurance at all. For them to qualify for Medicaid, you cannot leave assets directly to them and need to form a special needs trust.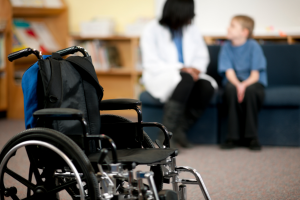 It is important to understand which assets do or do not affect eligibility for SSI or Medicaid in order to accomplish this.
Owning a house, a car, furnishings, routine personal effects, property essential for self-support, assets used toward an occupational goal, life insurance policies with cash surrender values less than $1,500, and burial insurance policies of any value will not jeopardize eligibility.
Many assets including some properties, money, and other countable resources over $2,000 will disqualify your beneficiary from benefits.


Countable resources include cash, checking and savings accounts, stocks and bonds, vacation homes, rental properties, or other real estate that is not their primary residence,

IRA

,

401(k)

, and

other retirement assets

, investment accounts, and

Uniform Transfer to Minor Accounts

.

While owning an expensive home or car will not affect their coverage, a gift of only $10,000 in cash would disqualify them. An exception is if they only receive Medicaid (not SSI); the home value may be limited to $500,000 – $750,000 depending on the state they live in.
For the trust to be eligible:
The trust must be formed before your beneficiary turns 65 years old (the age when everyone is eligible for Medicare).
It can be used without penalty after they turn 65; disabled people on Medicare may still need Medicaid to cover all their medical bills and Supplemental Security Income to maintain their lifestyle.
No new assets can be added after they turn 65 without being subject to transfer penalty rules that prohibit getting Medicaid for a certain amount of time.
Beneficiaries must meet the government's definition of "disabled" when the trust is established and funded. 
This may require that the court be involved to determine if the beneficiary is eligible for these benefits.
Both minors and adults must have a disability that constitutes a substantial handicap and substantially impairs their ability to provide for their own care or custody.


For adults this may include the inability to perform their current job or may only apply if they cannot work at all. Even if they are able to work, they could qualify if their monthly earnings are less than the current amount allowed in their state.
In practice, anyone who qualifies for SSI or Medicaid on the basis of disability will meet these requirements.

The condition must be on a Social Security Administration list of serious medical conditions that automatically considers them disabled. Common conditions include blindness, developmental disabilities, Down syndrome, organic brain damage, chronic mental illness, physical paralysis (paraplegia), or congenital disabling afflictions such as cerebral palsy or cystic fibrosis.
The disability has been present continuously for at least 12 months or is expected to result in their death.
The definition does not include partial or short-term disabilities.
Your application will be reviewed by your state's Disability Determination Services before approval.
The trust agreement needs to be carefully worded to make it valid and absolutely clear on the directives and purpose of the trust.
There are some important components of a special needs trust to make it valid.
The trust document must state that the trust is:


Intended to supplement — not supplant, impair or diminish — government benefits or assistance for which the beneficiary may otherwise be eligible; and 
Not intended as a basic support trust.

There must be a clause that bans the trustee from using trust assets to pay for anything that will impair or diminish the beneficiary's qualification for government benefits.
Do not include a "Crummey Clause," which is an estate tax provision that allows the beneficiary temporary access to distribute assets from the trust.
Include the required language regarding payback to Medicaid if a first-party trust.
Explain the exception to the Omnibus Budget and Reconciliation Act.
Include a copy of the relevant provisions from the United States Code.
For guidance, reference the Social Security Operations Manual and the specific parts in the manual that authorize the creation of the special needs trust.