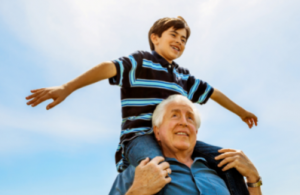 A generation-skipping trust (GST) is a type of irrevocable bypass trust for assets to be subsequently passed on to your grandchildren while avoiding or skipping estate taxes during your children's generation. They can be a living or testamentary trust. GSTs are much more complicated than they seem and you will likely need a professional to create one.
A GST lets you transfer assets over the federal and/or state limits to beneficiaries at least two generations removed from you (skip person), and avoid estate taxes during the middle generation. This is called a generation-skipping tax or generation-skipping transfer tax.
It does this by either deferring ownership of the trust from your spouse and your children to your grandchildren or transferring assets from the trust to them in the form of gifts before they inherit it.
It could be used for other family members or unrelated people who are at least 37 ½ years younger than you, although not a spouse or ex-spouse.
Like any trust, you will name a trustee and can determine how, when, and why the funds are given to your children and/or grandchildren or leave it up to the discretion of your trustee. Your child could be the trustee.
Because of the time frame involved, there is a much higher chance of things changing or going wrong. A GST will require more thought and outside assistance than single generation trusts.
You will need to try and anticipate future changes in the estate tax limits for decades rather than years. Currently the federal estate tax limit is $12,920,000 and will increase for inflation until 2025, after which it is due to be lowered by 50%; although a different, much lower, limit could replace it. State estate taxes, inheritance tax, and other taxes on the transfer of estates will probably change as well. It is also likely that other inheritance laws will change.

Named beneficiaries may change, so contingent beneficiaries are essential. New beneficiaries through birth or adoption will usually be added automatically but it is best to assure this will happen.

It is even more important to include replacement trustees or have a professional firm manage the trust, and to include power of appointment that will allow trustees to adapt to any of these circumstances.

If you don't include contingencies or successors, the court will make the decisions.
The generation-skipping tax differs from other estate taxes when over the limit. Rather than a variable taxation rate from 18% to 40% for the first $1,000,000 over the limit, the entire amount is taxed at 40%. However, since the GST avoided estate tax during your children's generation, the overall result is less taxes.
There are two ways to transfer assets from your estate to your grandchildren or other "skip persons," the indirect and direct skip.