Grief is the most common feeling experienced by anyone affected by death. It is normal after a loved one's death.
You may experience anticipatory grief, which is grieving associated with an expected event. 
In this case, you are aware of and will be grieving your loved one's impending death and you may be grieving about additional things personal to you.
You may be losing the life you planned and expected with your loved one.
You may be losing the person you loved as the illness progresses. 
There may already be things you may have lost, such as your lifestyle, your freedom, your interest in doing the things you enjoy, or seeing your friends. 
There may be an emotional distance developing between you and those who are not coping well that can be isolating.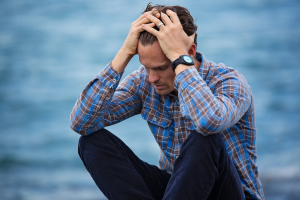 Grief is a very personal process and there is no right way to do it. Grief can be a long and difficult process full of ups and downs, relapses, confusion, and changing hopes for the future. Your family and friends will also be grieving about what you are going through and the loss of someone who is their loved one as well.
The well known Kübler-Ross model "Stages of Grief" is a good guide of how feelings and emotions can be mixed together and change over time. Originally, there were five stages of grief observed, but the model has since been updated to include a total of seven stages.
Many grieving people will go through all of these stages, but not everyone will. Each of us experiences the stages of grief in different orders, intensities, and lengths of time. Often the stages overlap and may even take place at the same time. Denial tends to come first and acceptance is typically the last stage.